Appetizers
♥ VEGAN
⚹ GLUTEN SENSITIVE
Tortilla Chips & Fresh Salsa
House-made corn tortilla chips with our house-made salsa. $6.00 ♥⚹
Add Guacamole $2.50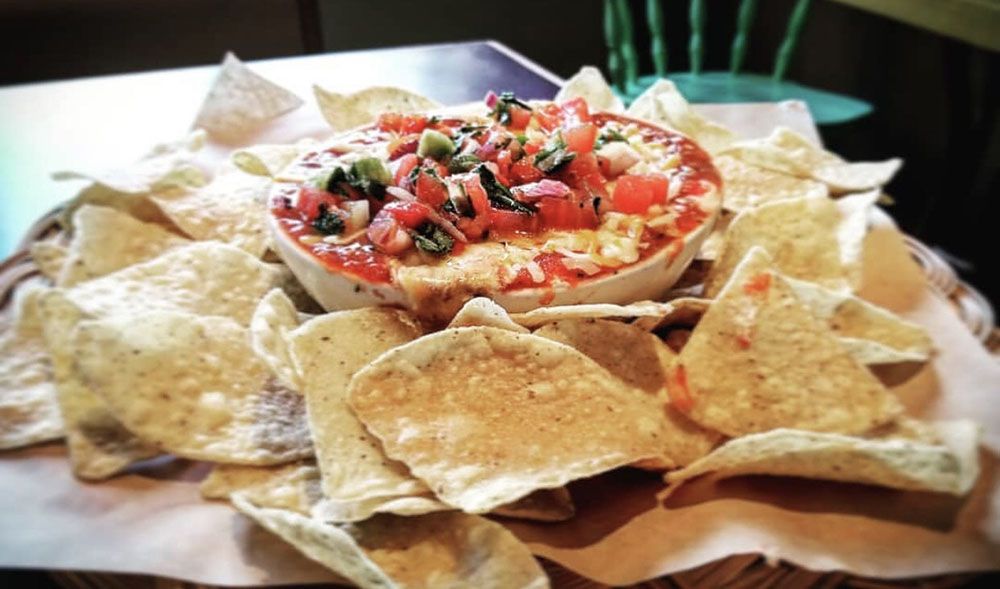 Mexican 7 Layer Dip
A warm layered dip of refried beans, cheese sauce, pico de gallo, sour cream, shredded cheese and served with tortilla chips.
$9.90
Chicken Lime Soup
Chicken soup with rice & stewed tomatoes. 
CUP $4.90 | BOWL $6.90
Oven Baked Nachos
Tortilla chips baked with cheese, green onions, peppers, tomatoes, black olives & pickled jalapeños. Served with sour cream &  fresh salsa.
$17.90
Add Chicken, Beef, Pork or Yam 3.00
Salads
Served with tortilla chips $14.75
Burrito Grill Chicken Salad
Chopped chicken, slivered almonds, cranberries, tomatoes, mixed greens & peppers. ⚹
Mexican Garden Salad
Quinoa, black beans, pumpkin seeds, yam, tomatoes, mixed greens, peppers & pico de gallo salsa. ⚹ ♥
Beef Taco Salad
Ground beef, cheese, black olives, tomatoes, mixed greens & peppers. ⚹
House-Made Dressings
Creamy Lemon
⚹
| Balsamic
⚹ ♥
| Hidden Valley Ranch
Hard Shell Tacos
Three Tacos $12.90
Chicken, Pork, Ground Beef or Veggie Curry
Tacos come loaded with your choice of filling, cheese, lettuce, fresh salsa, creamy taco sauce & choice of spice. ⚹
Choose Your Filling
for burritos, burrito bowls, & quesadillas
Beef – Juicy ground beef & a touch of BBQ spice Chicken – Marinated in garlic, tomato sauce Pork – Slow cooked, BBQ pulled pork Veggie Curry – Veggies sauteed in curried coconut milk Fish – Basa fish poached in herb broth Yam – Poached Basa fish in herb broth Shrimp – Poached in cinnamon & herb broth
Fish & Shrimp – Add $2.00
Burritos
(Fill out a white slip)
Burritos are made to order with your choice of fillings, refried or black beans. Includes Mexican rice, cheese, lettuce, sour cream, guacamole, side of fresh salsa & your choice of spice level. SMALL: $10.40 | REGULAR: $11.90 | LARGE: $13.60
Upgrade to Quinoa – $2.00
SIDES | EXTRAS
Sides
– Guacamole 1.60
– Salsa | Sour cream or Pico de Gallo .80
Upgrade
– Extra Cheese 1.80
– Organic Quinoa 1.00
– Fresh Spinach .80
Burrito Bowls
(Fill out a Yellow Strip)
Burrito Bowls are made to order with your choice of fillings, refried or black beans. Includes Mexican rice, cheese, lettuce, sour cream, guacamole, pico de gallo salsa & your chocie of spice level. Regular: $13.60 | Large: $14.90
Quesadillas
(Fill out a pink slip)
Quesadilla are made to order with your choice of fillings, cheese & tomatoes, bell peppers. black olives & choice of spice level. Served with a side of fresh salsa and sour cream Small: $11.40 | Regular: $13.60 | Large: $14.90
Add Guacamole – $2.00
Gluten Free? Teff Shell | Small: $2.00 | Large $2.50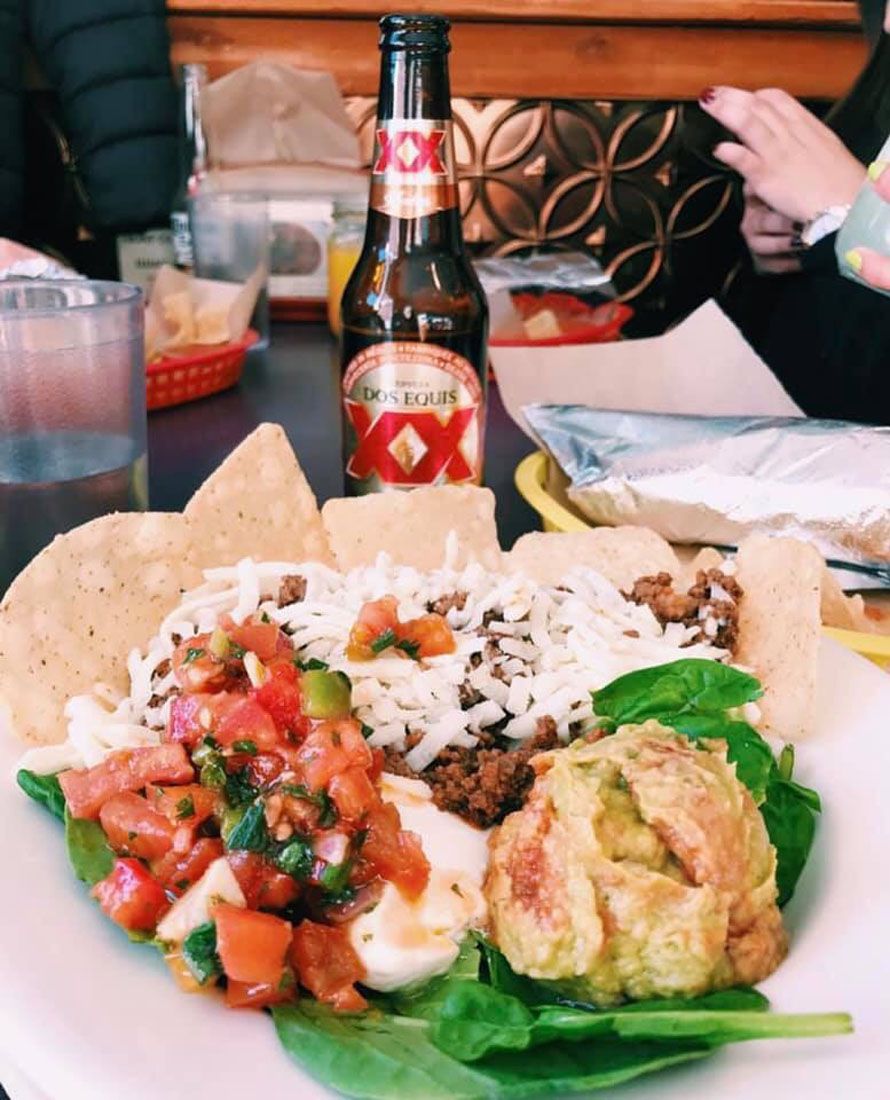 Little Amigos Burrito
(Fill out a white slip & circle "Child Sized")
Child's Burrito made to order on a 10" shell.
Little Amigos Burrito Bowl ⚹
(Fill out a Yellow Slip & circle Child size)
Child's Burrito Bowl made to order.
Little Amigos Quesadilla
(Fill out Pink Slip & circle Child size.)
Child's Quesadilla made to order on a 10″ shell. Served with salsa, sour cream.
Gluten Free? Teff Shell | Small: $2.00 ⚹
Little Amigos Tacos ⚹
Two hard shell tacos made to order.
Little Amigos Cheese Nachos
Child's Nachos topped with mixed cheese. Served with salsa & sour cream.
Add one small drink to any Little Amigos Meal.
Apple or orange juice box, milk, or fountain pop.
$2.00
Desserts 
Mexican Chocolate Torte
Rich, dark torte & milk chocolate ganache.
$6.50
Lime Margarita Cheesecake
Creamy cheesecake & twist of lime.
$8.00
PLEASE MAKE US AWARE OF ANY ALLERGIES GLUTEN SENSITIVITIES
We will try our best to accommodate & work within your guidelines. However, allergens are on-site and contact is a possibility.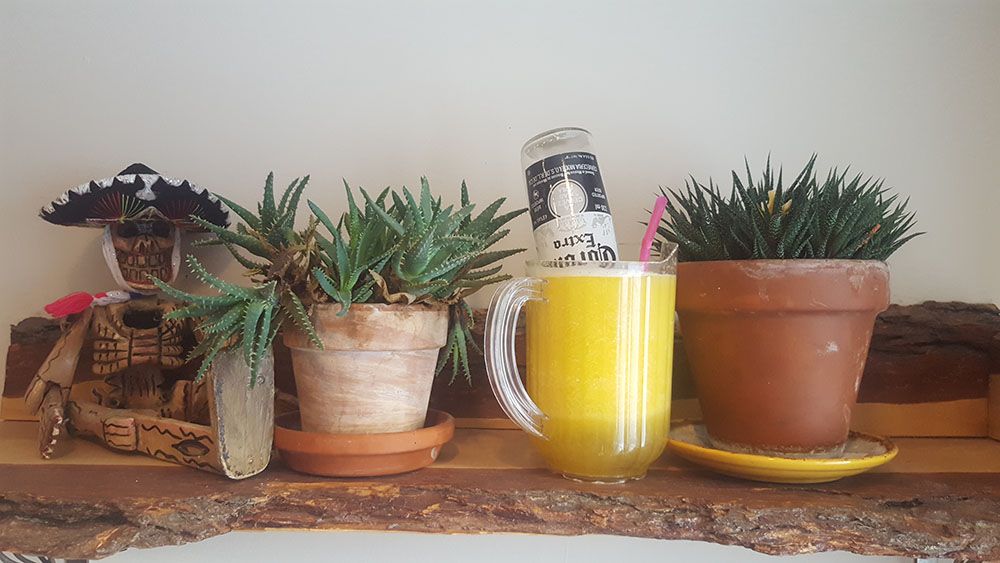 Margaritas
can be made as tequila, vodka, or rum
Beer-Garita (Single)
$11.75
Large Pitcher – $21.75
Slushy Margarita
$6.75
Lime or mango
Margarita "On-the-Rocks"
Fresh lime & agave, over ice $7.75
Kombucha-Rita
$8.00
Mango kombucha over ice
(Local Brew)
Beer
$6.00
Corona Dos Equis Lager Dos Equis Amber Sol Pacifico Kokanee Angry Orchard Cider Smirnoff Ice Over Time Beer (Local Brew)
Mountain Standard – Golden Ale Right About Now – IPA
Wine
7 oz. $8.00 | 1/2L $15.00
Peller Estates Wine
Red | Merlot White | Pinor Grigio
Tequila Shots
Olmeca Gold
Tequila $5.00
El Jimador Gold
Tequila $7.00
Mexican Coffee
Brewed with spicy cocoa & cinnamon
---
Regular Coffee 3.00
Decaf 4.00
Americano 3.50
---
Latte
$5.50 Almond milk & decaf espresso available Add flavor shot .50
Tea Lattes
$5.50
Matcha Latte
Pure green tea powder, steamed milk & chai flavour, topped with cinnamon
London Fog
Chai Latte
Hot Chocolate
$6.00
Mexican Hot Chocolate
Rich, dark spicy cocoa
Regular Hot Chocolate 
$5.50
Kid's Hot Chocolate
$4.00
Add a Shot!
Kahlua or Bailey's $3.00 Single Espresso shot $2.00
Pop & Drinks
Jarritos
$3.50
Slushies
$3.75 Lime or mango
Local Kombucha
$4.50
Fountain Pop
$3.00
Loose Leaf Tea (Local Brew, Organic)
$3.50
Melting Glacier
Ginger & lemon verbena
Meachen Falls
Rose hips, holy basil & fennel
Bagged Tea
$3.00 Peppermint, Chamomile, Orange Pekoe, Earl Grey